Archive for the 'Website' Category
July 10, 2015
Rather than keeping a document up to date and distributing it to all new faculty and staff, it's easier to just post here and send out the address. Below is some useful information about the technology we use and how you can access it.
Wireless
There are a couple options for wireless at school. You should see a WPA2 protected SSID called Harley_Secure and an open SSID called Harley_Guest. You can connect to the secure network using your Harley username/password which will give your device the same access as a wired device. You'll need to install this SSL certificate to avoid errors when viewing https sites. You could also connect to the guest network with no authentication, but you won't be able to access any file servers or network resources other than the internet. The extra certificate is not needed on this network. The guest network will most likely be the easiest way to connect your personal phones/tablets to get internet access.
There is also a deprecated SSID called hswlan. This is a legacy network from our old wireless system that will most likely disappear in the very near future.
Email
Our email is handled by Google Apps for Education. Once you receive your email address and password you can access your email by visiting the Gmail website from any computer:
Your Gmail password is synced with your Harley network password. Changing your Harley password will automatically change your Gmail password to match. This does not work in the other direction though, so if you change your password in Gmail, keep in mind your Harley password will not change.
Feel free to add your email account to any and all mobile device you have. Using the Gmail App is the preferred way.
Student/Course Information
Access to our student information system (Senior Systems) is done through a webapp called My Backpack. This is where you can see your class lists, view student information, enter grades/comments and enter attendance. Your Harley username/password gives you access to this site.
Phones
You will have a phone in either your classroom or office. Calling another Harley phone is as simple as dialing its 4-digit extension. To make an external call you can either dial 8 before the number or press the "Outgoing" button on the phone to acquire an outside line.
442-1770 – our main number, rings at the front desk
442-1777 – goes directly to the auto-attendant, good for remotely checking voicemail.
442-5758 – our fax line
Your phone also has a direct dial number. Dialing 277-xxxx from an external line where xxxx is your extension will ring your phone directly. If you don't like this feature or find it disruptive please let us know it can be disabled.
You can check/setup your voicemail externally by dialing into the auto-attendant (442-1777) and pressing the star (*) key. It'll prompt you for your mailbox number and passcode. When a message is left in your voicemail box, you will be notified via email and an audio file containing the message will be attached.
Websites
If you currently have your own personal website, keep using it if you like. You can use Google Sites built into your Gmail account if you are familiar and like that. If you are familiar with WordPress you can create a site here with the URL structure of http://sites.harleyschool.org/<whateveryouwant>
Just visit this page and click the "Register and Create Site" link. You can only sign up for an account with a harleyschool.org email address.
Document Storage
There are a few places you can store your documents with varying levels of security and accessibility.
Google Drive
Only you have access to your Google account and therefore only you have access to documents stored in your account. These are hosted in the cloud and are accessible from any computer and can be shared with anyone. With an institutional account, you have unlimited storage space with Google.
H: Drive / Home Directory
This is a directory mapped to your profile when you login to a computer at school. It's linked to a local file server and is therefore only accessible on a school computer. Only you have access to these files and they are not able to be shared. Disk space is also limited on this system. This is a good spot for private confidential files.
S: Drive / Snap
Snap is primarily used as student file storage, but you are welcome to use it. There are no access controls on Snap, so any document can be read and edited/deleted by anyone. Although this is possible, it rarely if ever happens maliciously. This is not the place to store anything of a sensitive nature. Because of its wide open security, it's perfect for sharing documents with students. Snap has considerably more disk space than your H: drive, but it does have a limit.
Help
If you need help or advice with anything technology related feel free to contact me.
Joe Reid
joe <at> harleyschool.org
277-1200
May 12, 2013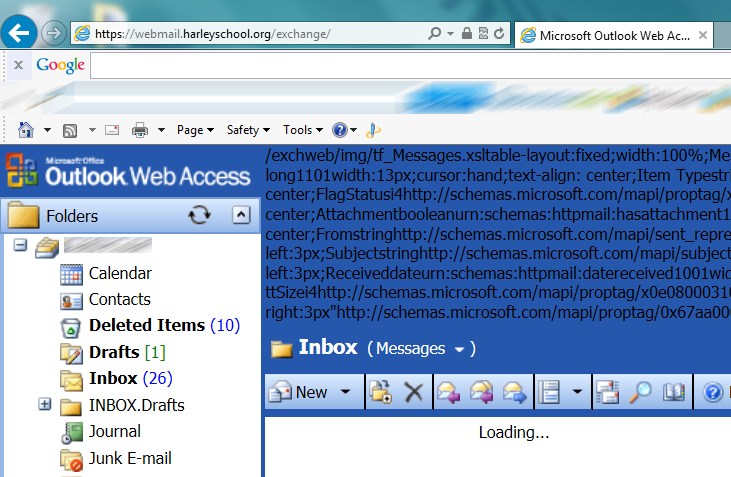 This one stumped me for quite a while. I've had random complaints that "webmail isn't working" but I could never catch it in action, it always worked for me (on my desktop, laptop and even my phone). People would tell me that the webpage would say loading forever. Finally someone with a laptop who was having the problem brought it in so I could play with it. At that point I figured out it was related to Compatibility View in Internet Explorer 10.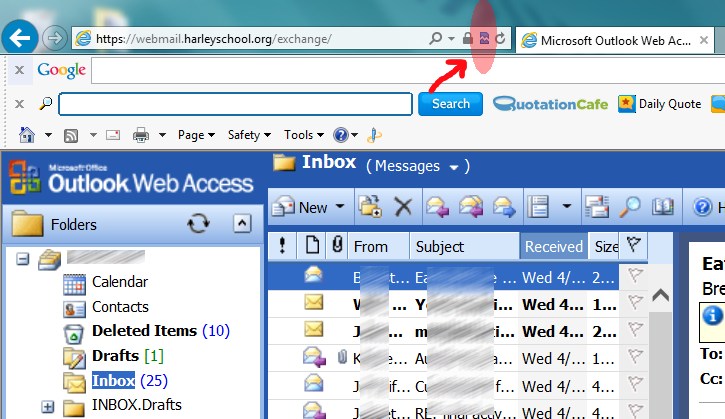 If you add "webmail.harleyschool.org" to the list of sites to use Compatibility View or simply click on the little icon in the address bar the site displays perfectly again.
This really irritates me because Outlook Web Access (OWA) is a Microsoft product, and it doesn't work as well as it should in any browser other than Internet Explorer and now the new version of IE won't display it correctly without tweaks.